Skip to product information
Supercilium Color Booster
$11.00 Sold out
All orders ship
from Austin

First brow lamination
US company in 2019

Hybrid Tint Certificate for FREE
Because of the excess oil of some skin types, there can be a tougher barrier that prevents the henna from penetrating the skin and leaving a long-lasting stain. In other words, it's more difficult for oily skin to absorb henna on the skin.

This is why we introduced the Supercilium Color booster. With 2% saline, this product serves as a henna activator to make sure that henna pigment is absorbed much better and to intensify the color of the henna on the skin, which guarantees the client is able to enjoy her henna brow with a better and longer-lasting result.
The Color Booster will intensify henna stain and will extend the longevity of henna, especially for people with oily skin. If you add Color Booster, which contains 2% Saline, to the henna mix, it will make sure the skin absorbs the henna pigment much better. No matter how skilled you are, the expected brow henna results sometimes don't show on the brows of clients with oily skin. 
What is Saline?
Saline is basically water that contains a high concentration of dissolved salts. Normally this is used for medical solutions, but in our research, we found out that because of its moisture-reducing abilities, it can also be used to intensify the henna color.

DIRECTIONS
Normally, you would mix one scoop of henna with 15 to 20 drops of the Color Developer. When adding the Color Booster to the mix the ratio is 1:1. So you replace half of the drops with the Color Booster.
For lighter henna colors (Blonde, Light Brown, Medium Brown): 
One scoop of henna + 15-20 drops: half Color Developer, half Color Booster.
For darker henna colors - (Dark Brown, Black, Auburn): 
One scoop of henna + 10-15 drops: half Color Developer, half Color Booster.
In case your mixture is still too thick, you can always add a few extra drops of the Supercilium Color developer.
Estimated X brow henna treatments for a single bottle of Color Booster.
INGREDIENTS

AQUA (WATER), SODIUM CHLORIDE, PHENOXYETHANOL, ETHYLHEXYLGLYCERIN, CITRIC ACID.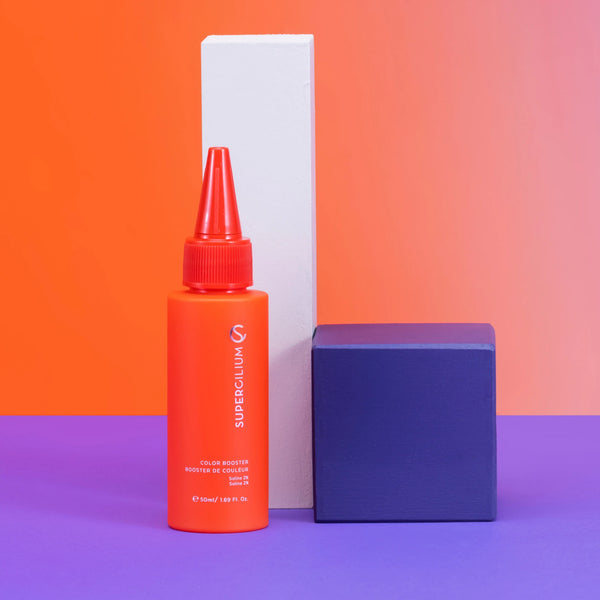 Supercilium Color Booster
$11.00