Skip to product information
Mayamy Brow Perm and Bronsun Tint Training by MicroArtistry Academy
$449.00
Store Availability
✓ Available for pickup
All orders ship
from Austin

First brow lamination
US company in 2019

Hybrid Tint Certificate for FREE
Learn the Mayamy Brow Perm Set with this online MasterClass!
This online course is designed to train in the Mayamy Brow Perm Kit. 
It will give you the knowledge and skills to not only perform the service flawlessly on your clients but also to understand how it works and who will be a candidate!

 


This course comes with a beautiful full training kit, Including
MAYAMY Brow Perm Products, 1, 2 and 3
MAYAMY Protein Botex
MICROARTISTRY Bathe Brow and Lash cleanser
MICROARTISTRY Plastic Brow occlusion film
MICROARTISTRY mapping string,
One Brow pencil and ALL working tools including microspoolies!

Finally, you will also receive Amber's Brow Tint Trio. 
The Trio is a collab between Microartistry and Bronsun. It includes three of Amber's favorite Bronsun tint colors, #5 Light Brown, #6 Brown and #7 Dark Brown and the course goes into detail about the colors and how they are used on models! You can use this tint as a standalone service or after Lamination!

 Follow this link to see the training modules: CLICK HERE
Take this class this month and receive a free BONUS of the new MicroArtistry Brow Brush set!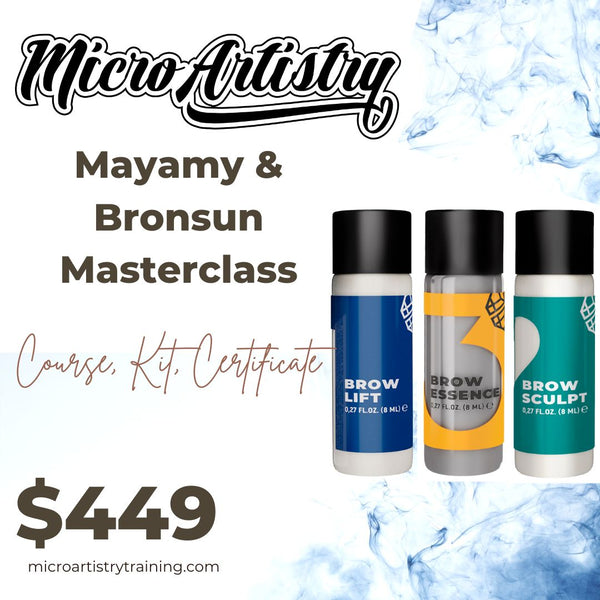 Mayamy Brow Perm and Bronsun Tint Training by MicroArtistry Academy
$449.00