Skip to product information
Supercilium Brow Henna Starter Kit
$219.00 Sold out
All orders ship
from Austin

First brow lamination
US company in 2019

Hybrid Tint Certificate for FREE
All the shades and accessories you need to create flawless henna brows
Our most extensive Brow Henna Kit. This henna brow starter kit contains: 
6 shades of Brow Henna: Blonde, Auburn, Light Brown, Medium Brown, Dark Brown, Black).
Brow Care: Eucalyptus Color Developer, Matcha & Mint Pro Cleanser, Color Corrector
Brow tools: Mixing cup, measuring spoon and angled brow brush.
Save 15%: By buying the kit you save 15% compared to buying single items.  
The carefully selected henna pigments are suitable for every skin tone and eyebrow color. Recommended by brow artists, this professional henna brow kit includes everything you need to start creating flawless brows. 
Note: we increased our henna jars from 5 to 7 grams - good for up to 56 treatments per jar. 
Supercilium offers a great alternative to regular brow tinting. This kit contains everything you need to create flawless brows. Our dye is based on the latest innovations in hair coloring. Thanks to a careful selection of pigments, our henna does not leave a red glow on skin or hair. 
HOW MANY TREATMENTS WITH ONE KIT?
- 1 kit can be used for up to 336 treatments. 
- Use half a scoop with henna for one treatment. 
PRO CLEANSER WITH MATCHA & MINT
The cleaner the skin, the better the henna can penetrate the skin. That's why we searched for a formula that removes excess oil and dirt but also has natural anti-bacterial features. That's exactly what our Pro Cleanser with Matcha does.  We matched it with Mint which is known for its cooling purposes and ability to open up the pores. Resulting in super clean skin, ready to rock new flawless Henna Brows. 
COLOR DEVELOPER WITH EUCALYPTUS
After researching how to extend the lifetime of Brow Henna treatments, we found the power of the natural ingredient Eucalyptus. By adding several drops of it they will better set. But even better, it will help to intensify the color. Resulting in a deeper color. Everything you need to create the long-lasting results clients are longing for. 
COLOR CORRECTOR WITH LEMON
Did the color turn out wrong or do you need to correct stains? Don't worry, with our Color Corrector you can quickly and easily remove stains from dye, tint, or henna. It can also be used to correct the color to its desired shade.
DIRECTIONS
Remember to always perform a patch test 48H before the treatment.
1. Mixing ratio: one spoon of Supercilium Henna powder with 15 - 20 drops of Supercilium Color Developer.  Most beauticians use half a scoop for one henna treatment. Stir well until a smooth substance is achieved. It's important that the henna is not too runny, nor too thick.
2. Use the Supercilium Prep Peel Gel to get rid of excess sebum, make-up buildup, and dead skin cells to ensure the longevity of Brow Henna treatments. Apply one drop on each eyebrow, massage it gently into the brow for 15 seconds and carefully remove it with a cotton pad with Supercilium Pro Cleanser.  
3. Apply a layer of henna with an angled brush. Press/stamp the paint into the eyebrow until all skin is covered, back to front as well. Make sure to create sharp lines. Correct small mistakes using a cotton swab with Supercilium Color Corrector
4. Remove product at the inside of eyebrows after 3-5 minutes for an ombre effect, with a damp-not too wet-cotton pad. If still too light, reapply and leave on for another 3-5 minutes.
5. Remove the rest of the henna after 10-20 minutes. If you want to correct or lighten the brow color, use the Supercilium Color Corrector again by gently wiping over recently painted brows with a cotton swab.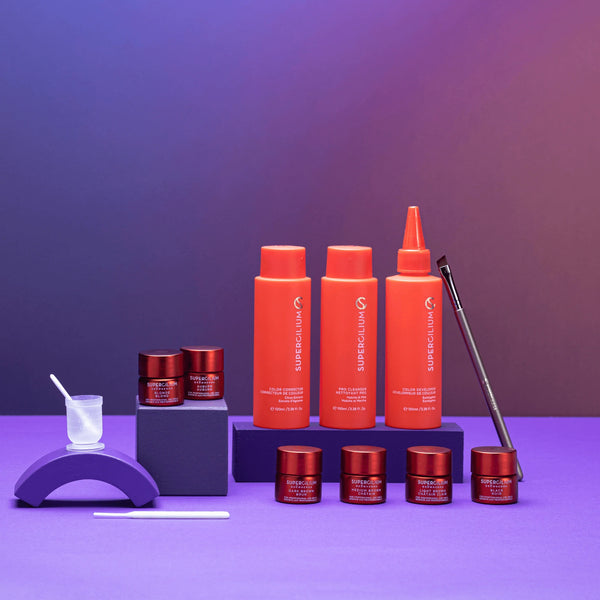 Supercilium Brow Henna Starter Kit
$219.00