Skip to product information
Supercilium Brow and Lash Dye Kit
$145.00 Sold out
All orders ship
from Austin

First brow lamination
US company in 2019

Hybrid Tint Certificate for FREE
The Brow & Lash Dye is ideal for clients wanting longer-lasting, bolder results. This brow tint not only stains the skin and hairs for darker brows, but the hybrid dye can also be used to dye lashes!
The gel structure of the dye will guarantee consistent results on all skin types and give you voluminous brows and dark lashes. It can even cover up grey hairs. The Brow & Lash Dye will give the appearance of fuller brows and has a more rich and bright effect than regular dye, and takes less time to process than henna. For the lashes, it will give a darker and more dramatic look than regular eyelash tinting. No mascara is needed anymore for your tinted lashes with beauty treatments like this. 
The Brow & Lash Dye Kit includes everything you need for eyebrow and lash tinting.
The kit contains: 
6 colors: Auburn, Ash, Light Brown, Medium Brown, Dark Brown, Black
4 Oxydant Developers
Medium Angled Brow Brush
Color Corrector
Pro Cleanser
The Brow & Lash Dye Kit Supercilium brings you the newest innovation in the brow tinting industry: Hybrid Dye. A dye that mixes the benefits of henna and regular dye. It provides similar long-lasting and intense results to henna. The best thing about this brow and lash tint is that it requires shorter processing times, which means you will be done more quickly and can treat even more customers on a daily basis! It leaves you with defined brows and can even fill up spots in sparse brows.
The Brow & Lash Dye stains the skin up to 9 days* and the hairs up to 7 weeks. With the colors Black, Ash, Auburn, Light Brown, Medium Brown, Dark Brown you can cover all undertones and skin tones. The best thing is that you can mix the colors to get the most perfect shade for your customers.
HOW MANY TREATMENTS IN ONE KIT?
With one Brow & Lash Dye Kit you can perform up to 240 brow & lash treatments.
ALL THE BENEFITS OF HYBRID DYE:
✓ Semi permanent dye that stains the skin and hairs
✓ Brow tinting with long-lasting pigmentation:
- Hairs up to 7 weeks
- Skin up to 9 days*  
✓ Easy to use
✓ Makes eyelash tinting safe: Ammonia-Free, Paraben Free, Cruelty-Free
✓ Gel structure is consistent in usage
✓ High ROI: 1 tube = up to 40 treatments
✓ Can be used in combination with Brow Lamination & Lash Lifting
✓ Online courses available: free & certified
*When used in combination with the Prep Peel Gel.
Visit the separate product pages of the products in this kit to learn more about all the ingredients: 
Remember to always perform a patch test 48H before the treatment.
Please follow the instructions that come with the Brow & Lash Dye Starter Kit or follow our free or Certified Brow & Lash Dye course.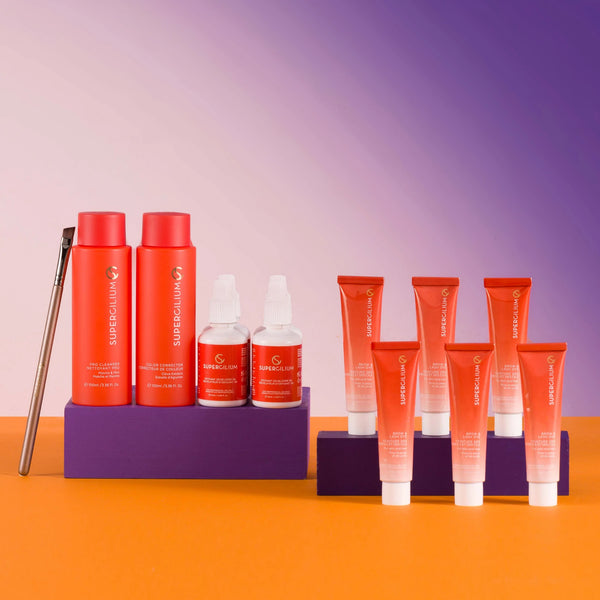 Supercilium Brow and Lash Dye Kit
$145.00