Skip to product information
Bronsun Eyelash and Eyebrow GEL DYE ONLY 15ml
$12.75
Store Availability
✓ Available for pickup
All orders ship
from Austin

First brow lamination
US company in 2019

Hybrid Tint Certificate for FREE
This product NOW includes a digital download of:
Official Bronsun Color Theory Guide, Official Bronsun Starters Guide, Microaritstry Bronsun Mixing guide and quick tips
These documents are available as a download after checkout and will also be emailed when order tracking confirms delivered in case you forget to download at checkout!
This is the larger version of the dye, 15ml. Another option to purchase is the Bronsun Tint KIT.
Eyebrow tinting with henna effect
BRONSUN® gel dye helps to create graphic and voluminous eyebrows regardless of clients' color types and quality of their eyebrows: even affected by excessive correction, sparse and thin ones will look flawless after the tinting.
Intensively tints the skin as if it was dyed with henna. Besides a dye tinting procedure itself is much easier and faster!
Due to its formula, BRONSUN® gel dye

 

gently tints eyebrow hairs.

 (Check out the new Bronsun Prep and conditioning products designed for use with these!)
This is to be used with Bronsun Milk Cream Developer.
You may also want to purchase the Bronsun Remover with this product in order to help you achieve an Ombre look with your tinted brows, or you can use a lighter color in the front. 
From the manufacturer:
 Main colors of dye Bronsun:
 # 1 Black - Mostly used for Lash tint
 In mixes, you can add it to darken or to create a cooler shade.
 # 2 Graphite — suitable for blondes with a cold undertone and for cooling brunettes.
 # 3 Blue-black — has a deep black shade and is used only on the eyelashes.
 # 4 Chestnut is the most neutral shade. Suitable for medium-blonde types and for those who do not like too bright coloring.
 # 5 Light brown — ideal for red, medium and light brown girls with straw, golden and ash tints.
 # 6 Brown-suitable for girls with light brown or dark brown hair (without olive skin tone).
 # 7 Dark brown — suitable for girls with dark hair and dark skin.
 Mixes:
 • Light brown + Graphite - for light girls with a warm undertone.
 • Chestnut + Graphite - ideal for those who want to cover the old tattooed brow. 
 • Chestnut + Dark brown - for girls with dark skin, but with light brown hair.
 • Brown + Chestnut - for those who want to make the color more intense.
 • Light brown + Dark brown - a neutral light brown shade.
 • Light brown + Chestnut - for girls with light brown hair.
 Add graphite #2 to cool down your color.
 Have fun creating your own personalized tint mixes for your clients!
 How to apply Bronsun:
~Map brows to desired shape.
~Mix Bronsun tint, just a pea-sized amount for both brows. Let stand one minute
~Using MicroArtistry Academy Angled brow brush, apply from the front/head of brow to tail, one very thin layer.
~Allow to dry.
~Apply second thin layer from the tail up.
~Remove fronts after about 5 min to check for saturation. Really if desired.
~After 5 to 15  min remove product.
Enjoy! - Amber from MicroArtistry Academy 😘😘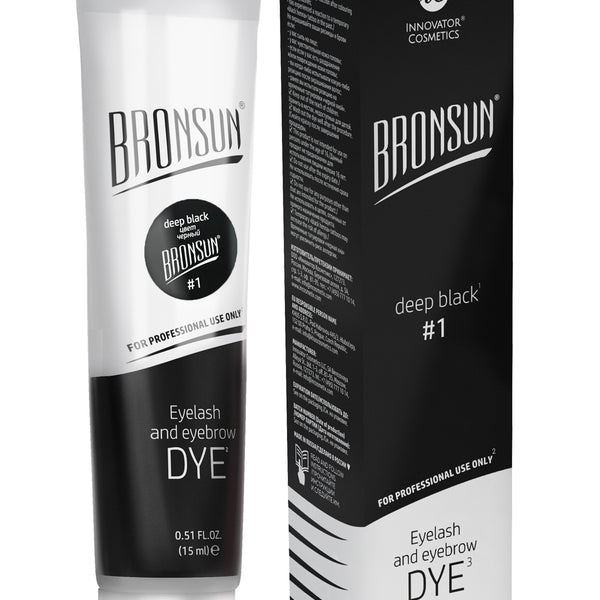 Bronsun Eyelash and Eyebrow GEL DYE ONLY 15ml
$12.75