Skip to product information
Brow Geek X Chateau De Belle Purple Foam Shampoo
$20.00
Store Availability
✓ Available for pickup
All orders ship
from Austin

First brow lamination
US company in 2019

Hybrid Tint Certificate for FREE
IN STOCK NOW!

THE BROW GEEK
PRESENTS
PURPLE BOTANICAL BROW SHAMPOO BY 
CHATEAUDEBELLE 
Dive into a world of elegance as you indulge in the opulent shades of purple foam that grace the Oil-Free Hybrid Brow Shampoo
This hue, carefully selected in collaboration with ChateauDeBelle, captures the essence of regality and mystique, making your brow treatments a captivating experience in itself
With a commitment to ethical beauty, this remarkable brow shampoo is proudly vegan and cruelty-free, mirroring our shared values of compassion and consciousness. But that's not all – the infusion of magic elevates this product into a realm of its own. Imagine the transformative power of a formula that not only enhances your natural beauty but also carries an intangible touch of enchantment
Each application becomes an enchanting ritual, creating a bond between you and the extraordinary
Shake well before use
Use one pump on the area to be cleansed
Using damp pad to remove residue before tint application
For extra prep, follow with a swipe of Infinity saline to further degrease the area.
WARNING:
KEEP OUT OF REACH OF CHILDREN
FOR EXTERNAL USE ONLY
STORE IN A COOL DARK PLACE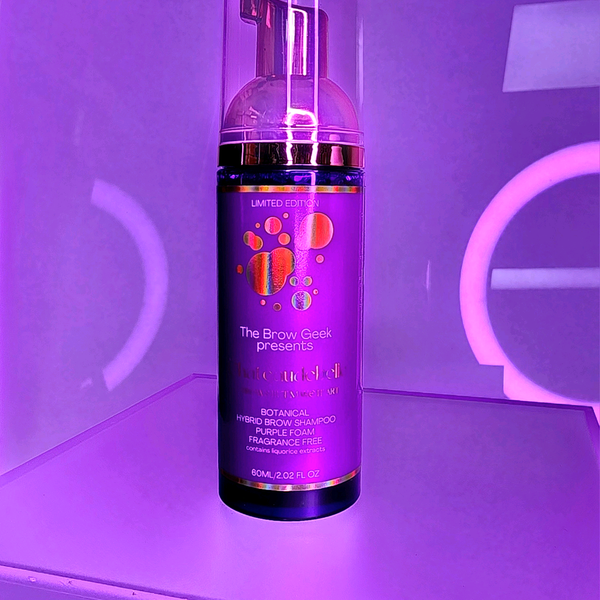 Brow Geek X Chateau De Belle Purple Foam Shampoo
$20.00