Skip to product information
MicroArtistry Course BUNDLE- Brow Lamination + Brow Mapping
Regular price $518.00 Sale price $459.00 Save 11%
Store Availability
✓ Available for pickup
All orders ship
from Austin

First brow lamination
US company in 2019

Hybrid Tint Certificate for FREE
Sezzle makes it easy to start training now, and pay as you go!
Check out our classes here to see the modules before you buy:  https://microartistry-academy.learnworlds.com/
MicroArtistry Academy Method of Brow Lamination
Be one of the first in your area to offer the newest brow trend, Brow Lamination!

This online course will give you the knowledge and skills to not only perform the service flawlessly on your clients, but also to understand how it works and who will be a candidate!

  
This course comes with a beautiful full training kit, complete with
BL Kit, cleanser, 20-pack of bond-restoring aftercare, plastic wrap, shaping items, pencils and more! 

After 4 of your models are submitted and graded, you earn your
Artist Logo and a gorgeous mailed Certificate of Completion! No cheap printouts here!

Bronsun tint bonus now included!
Our kit includes three of Amber's favorite Bronsun tint colors, #5 Light Brown, #6 Brown and #7 Dark Brown as well as how they are used on models! You can use this tint as a standalone service or after Lamination!   
PLUS:
The MicroArtistry Method of Eyebrow Shaping
An online course dedicated to teaching shaping fundamentals for brow artists.
The course includes a shaping kit, and teaches you how to shape using:
MicroArtistry's Shaping Method
The Caliper-only method
The String-only Method
The Brow Sticker Method
Live shaping on 5 models using MicroArtistry's shaping method
How to use a Measurement App
Waxing the Brow after Shaping
Tips and tricks 
Certificate of Completion!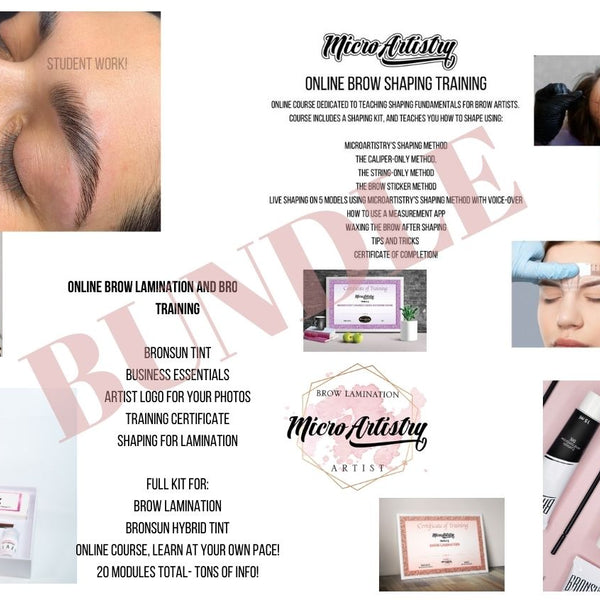 MicroArtistry Course BUNDLE- Brow Lamination + Brow Mapping
Regular price $518.00 Sale price $459.00